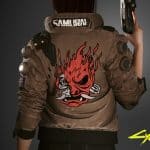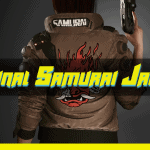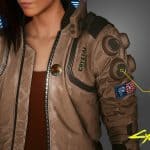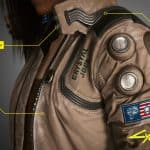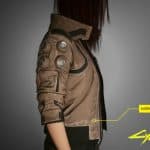 Original Samurai Jacket
---
Overview
Restores the samurai jacket appearance to the one seen in the render images from the cosplay guide from E3 2018. The default samurai jacket looks too glossy, dark and dirty for my own taste so I decided to restore the original look seen in promotional material.
This mod affects Johnny's jacket that can be obtained from the 'Chippin' In' sidequest. Alternatively, use the console command below.
Game.AddToInventory("Items.SQ031_Samurai_Jacket",1)

List of Changes
Restored the plastic on the shoulder bumpers (it was missing on the vanilla jacket for some reason)
Removed the vanilla dirt, scratches and stains
Changed the colour from reddish-grey to off-brown
Tweaked the materials so that the leather is more matte and less specular
Added a new dirt layer that is applied to the creases to give it a worn look
Adjusted the colour of the collar cables from black to dark grey
Changed the collar buttons from metal to grey polythene
Installation
1. Extract the .rar file to …\GOGLibrary\Games\Cyberpunk 2077\archive\pc\patch (GOG)
\SteamLibrary\steamapps\common\Cyberpunk 2077\archive\pc\patch (Steam)
Uninstallation
1. Remove basegame_OriginalSamuraiJacket.archive file from your patch folder.
Recommended Mods
https://www.cyberpunk2077mod.com/e3-2018-haircut-for-female-v/
https://www.cyberpunk2077mod.com/e3-v-mesh-model-and-textures/
https://www.cyberpunk2077mod.com/e3-clothes/
Special Thanks
Spookie
KickingWriter
Halvkyrie
EzioMaverick
All the folks on the Cyberpunk 2077 Modding Discord