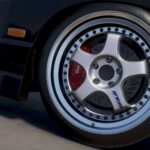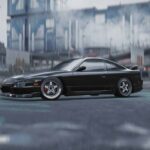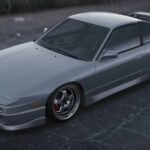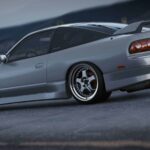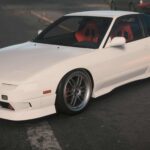 1993 Nissan 240SX (S13)
---
Adds a '93 Nissan 240SX to the game. Standalone car, no replacer.
So here is my first custom car mod attempt, it's probably not perfect, you've been warned.
It's compatible with Virtual Car Dealer, but you can also acquire it via CET's console:
Game.GetVehicleSystem():EnablePlayerVehicle("Vehicle.nissan_240sx", true, false)
What's included:
A '93 240SX with some aftermarket body parts on Work Meister S1 wheels.
There are also optional files for a stock body look, colour options for exterior paint, wheels and brake calipers, and some minor exterior changes like clear turn signals, spoiler delete, etc.
The car has two appearances, with the headlights up and down. They are up by default, you can use Appearance Menu Mod to toggle between them.
Some of the paint colours might look a bit washed out if you play with vanilla visuals, I used Realcolorr in those screenshots
How to install:
For the main file, drop the archive and r6 folders into your Cyberpunk 2077 installation folder.
The other optional files go directly into your archive/pc/mod folder.
Mod requirements:
– ArchiveXL
– Cyber Engine Tweaks
– RED4ext
– redscript
– TweakXL
– Material and Texture Override
– Virtual Car Dealer (if you want to purchase the car in-game)
Known Issues:
– Distant LOD is still the Porsche 930
– The hood opens if you try to open the trunk (because I switched their activation locations, so you can access the stash from the back) Not sure how to disable those animations yet
– Interior light doesn't work
– The left window clips through the door a little bit when lowered