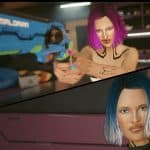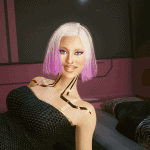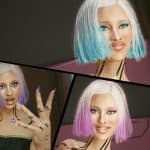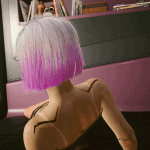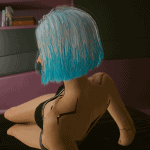 90's Dip Dye–A Hair Color Mod
---
Replaces the color swatch of your choosing with one of the three options pictured, five whimsical fashion colors. I chose the Opened Nina Hair to model these colors because I thought it fit the vibe. They do look good on almost all of the hair styles, some are more finicky than others.
This mod started when I had the idea for blonde or white hair with a colored tip, and just sorta snowballed from there once I had something that worked. I hope you like it!
I am aware that the shaved portions of your hair style will remain the original vanilla color, please do not report it as an issue. Simply use a save editor to swap your color to one that has a more appropriate side shave color if you are unhappy with it.
I am ALSO aware that if you replace hair color 06 with any of these, your EYELASHES will also change colors. Normally it's not noticeable, but these are white, so… yeah. use CyberCAT and change your character's coloring!
Install:
To replace your character's hair color you need to know what number (1-24) of hair color you chose for V.
Place only one .archive inside the mod folder. Otherwise every NPC's hair color will change.
Extract the .7z and put the .archive file inside these folders. If the "mod" folder doesn't exist, create it yourself!
Steam:
\SteamLibrary\steamapps\common\Cyberpunk 2077\archive\pc\mod
GOG:
\GOGLibrary\Games\Cyberpunk 2077\archive\pc\mod
Epic:
\EpicLibrary\Cyberpunk 2077\archive\pc\mod
Uninstall:
Delete the basegame_mod_HairColor_XZY.archive from Cyberpunk 2077\archive\pc\mod.
Notes:
– If there is enough demand, i'll make these dip dye colors for other base colors.
– You don't have to start a new game for it to work.
– Replacing all hair colors could result in NPC having those hair colors.
– Tested on game version 1.2
– I rarely read the comments on nexus so if you have any questions ask them on the discord linked below.
Credits:
– Rfuzzo for his awesome tools
-AlphaZomega
-SilverEzredes for teaching me to hex edit
-Stevebg23 for the Nina Hair that inspired me to get off my butt and do some work today!
Join us over at discord for live research and mod progress!
If you want to help out by all means and if you're interested in modding CP77, we'll help when we can. Cyberpunk 2077