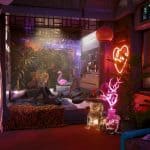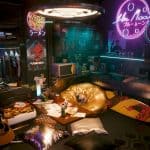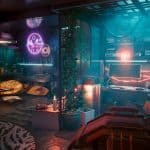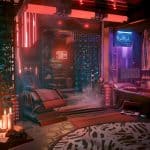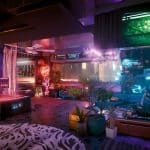 DIGITAL OASIS – H10 Apartment Preset
---
Kitschy maximalist H10 Apartment preset for AMM. Designed for a messy netrunner who keeps houseplants.
» updates
– version 1.1, 11/13/23: with proxima's permission, added the required prop archive and lua files to this mod. please update if you were missing props like the netrunning chair in your apartment! if you installed the cyber noir glen flat, no need to update.
to update, simply download and overwrite any existing files upon extraction.
hi! this is my first mod, an apartment preset specifically designed for my V (corpo origin, netrunner, a smoker and drinker).
» features
– preem lighting for photo mode
– adds a radio, netrunning chair, tub, kitchenette, washer/dryer, playable arcade machine
– plenty of neons, plants, clutter, stickers, etc
– bathroom door
– random junk that i like to imagine johnny annoyed V into buying, like a child asking for candy at a checkout.
– a single shower beer.
» installation
1. install CET and AMM (+ codeware) using their instructions.
2. download this zip, extract into your cyberpunk 2077 directory.
3. open your game, load into a save.
4. open AMM in game using the CET hotkey (usually ~ by default).
5. in AMM menu, open "decor" tab, then select the "presets" tab. select "Digital Oasis Apartment" from the presets drop-down.
» compatibility:
– tested so nibbles, iguana, and collectibles shouldn't be an issue… mostly (exceptions in 'possible issues' below)
– has NOT been tested with most mods that alter the apartment or any of deceptious's 'i really want to stay at your house' mods
– has NOT been tested with romance collectibles, but i tried to leave room for 'em
– if you have any of those loot boxes that appear to the left of V's wardrobe (i have two different ones across two saves?), they shouldn't clip with anything
– my screenshots use the 'coronado twilight' apartment theme. left room for the slight variations of decor placement for each theme
» possible issues:
– some inevitable clipping with animations
– kitchenette will partially cover the following collectibles: lizzy wizzy poster, jefferson peralez poster, and space oddity painting (examples in images)
– misty's dreamcatcher is moved due to the bed terrarium
– for some reason turning off interactable candles doesn't turn off the light they cast, just the flame animation
– physically jumping onto your bed is more difficult due to props w/collision, as well as finding the sweet spot for interacting with the wardrobe
– cannot turn off the tv in the shower, but it's as far away as possible to avoid sound carrying too much (i like the background noise personally)
– placed a go board on the couch so you can imagine V playing matches against johnny hikaru no go style. if you have the braindance from phantom liberty and use it, V will sit down on this board.
» usage etc:
– ⚠ if you don't like something in the apartment, feel free to renovate the preset to your tastes using AMM, but…
– ⚠ please don't modify this preset file directly in AMM and upload to nexusmods or other sites. for everything else, reach out to me and just ask.
– photomode virtual photographers, i crave your screenshots. please share/tag me in them or however nexusmods handles that kind of thing!
– please let me know if there are any issues, this is my first upload to nexus mods ever. i cannot help with CET or AMM though.