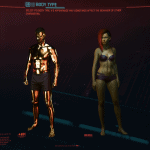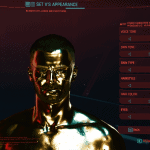 Golden Chrome Male V
---
INTRODUCTION
This mod will change the way your character appears by applying a different material to the pale skin setting avaialable in the creation phase.
It is currently only available for male V, and only for the ones that have the second head as base.
There are still some missing features (which I intend to add later), but as CDPR has showed this should not stop me from realising it.
HOW TO INSTALL
Just drop the .archive file in this path:
STEAM => C:\Program Files (x86)\Steam\steamapps\common\Cyberpunk 2077\archive\pc\patch
GOG => C:\Program Files (x86)\GOG Galaxy\Games\Cyberpunk 2077\archive\pc\patch
HOW TO UNINSTALL
Remove the .archive file from the afromentioned path
KNOWN ISSUES
1. No golden pp (yet)
2. If you have equipped any kind of cyberware that affects arms they will appear normal and not golden.