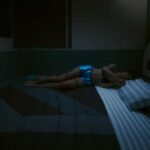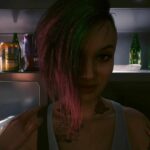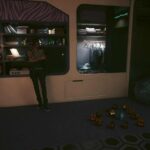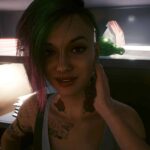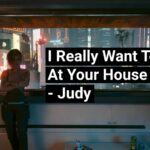 I Really Want To Stay At Your House – Judy
---
Judy will now stay at V's H10 apartment sometimes, if V romanced her.
Includes all the Judy Romanced Enhanced Features of schedules, hug and kiss options.
Each visit will last for 2 in-game days.
There will be a gap of 3.5-4 in-game days between (potential) visits.
The second time she messages about coming over V can tell her she doesn't have to ask and from then on she won't need a reply to come over.
Installation?
Unzip the main zip into "Cyberpunk 2077" folder so that the .archive and .archive.xl files end up in the "Cyberpunk 2077\archive\pc\mod" folder
Make sure the required mods are installed too!
REDmod?
Unzip in REDmod zip the "Cyberpunk 2077" folder so that the ReallyWantToStayAtYourHouse_Judy folder ends up in the "Cyberpunk 2077\mods" folder
Uninstall?
Simply delete the ReallyWantToStayAtYourHouse_Judy.archive and ReallyWantToStayAtYourHouse_Judy.archive.xl files from the "Cyberpunk 2077\archive\pc\mod" folder.
AND / OR
Simply delete the ReallyWantToStayAtYourHouse_Judy folder from the "Cyberpunk 2077\mods" folder.
How to "use" the mod?
Once installed simply enter V's apartment to activate.
Once 36 hours have passed AND Judy has been romanced (she didn't leave NC) she can message you for the first time.
You need to be more than 100m away from both Judy and the H10 apartment for her to send messages.
The first and second times she messages you will need to reply for her to come over.
After 2 days at V's she will return to her own apartment.
3.5-4 days later she will message asking again. This is the main loop.
The second message has a choice: If you tell her she doesn't have to ask then future messages won't need any reply.
Convinced that she should have messaged for the first time by now?
– Make sure ArchiveXL is working correctly and that the .archive.xl file is present
– Use the following CET console command:
– Game.SetDebugFact("deceptious_stay", 99)
– Restart the process from the ' V's H10 apartment to activate it' step
Warning/disclaimer
I do NOT know how the game will react if you saved inside her apartment before installing this mod.
I recommend saving somewhere else first if you have to.
Contains nudity as she uses the shower…
Languages
English only in version 0.9.0, hopefully I'll be able to localise the other languages. [This is for the text messages]
What times does she do the various things?
00:00 – 06:00 – Sleeping
06:00 – 08:00 – Shower
08:00 – 10:00 – Window
10:00 – 12:00 – Eat
12:00 – 14:00 – Wardrobe
14:00 – 17:00 – Window
17:00 – 19:00 – Eat
19:00 – 21:00 – Wardrobe
21:00 – 23:00 – Shower
23:00 – 00:00 – Window
What about the I Really Want To Stay At Your House – Panam mod?
Designed to be totally compatible, but would need testing properly by someone
who has (modded) romanced both Judy and Panam. It's designed such that
only one can message at a time and only one can stay over at a time.
What about the Judy Romanced Enhanced mod?
Totally compatible, that mod works on its own, no requirements when Judy's at home. This mod is just for at V's apartment
Compatibility with other mods?
Pet Your Cat has already been updated for full compatibility (the mods share a scene file)
Future mods like this, for the other characters, will also be compatible, part of the reason for the gap between visits is so that your other partner can stay over.
What if I want/need to talk to Judy and she's alseep?
Simply use the bed too, select a length of time to sleep, when you wake up she will be doing whatever she is 'scheduled' to be doing.
Will Judy ever get out of the shower?
Judy will stay in the shower until you have been near her and then moved away and not looking at her, then she will get out of the shower.
Issues/limitations:
Uninstalling the mod while she is visiting V's apartment could disable Judy, this can be fixed with a CET command, but just try to avoid uninstalling while she is there.
Judy won't be available on the phone or at her apartment while she is at V's.
The 'lean' option and its conversations topics are disabled in the mod currently as there isn't a proper location for V to lean at currently.
The reset command will reset all I Really Want To Stay At Your House mods, there's no way to make it only do one, they all need to reset
together.
Bugs
If anyone finds any bugs beyond what's listed in in Issues/Limitations, please let me know!
I've tested it a lot, but with it being a repeating/ongoing thing it's hard to test it for its entire expected run time