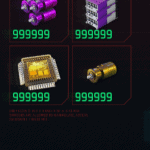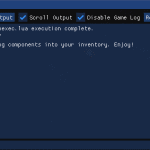 Infinite Crafting and Quickhack Components
---
Add 999999 of all crafting and quickhack components using a single console command!
REQUIREMENTS
Cyber Engine Tweaks mod so you can use the console in-game. Please install or update to the latest version
INSTALLATION
Extract craftcomp.lua to "bin\x64\plugins\cyber_engine_tweaks\mods".
HOW TO USE
Launch the console in-game.
Type the following command: dofile "craftcom.lua" or dofile("craftcom.lua")
If it works, the console should say Added 'infinite' crafting components into your inventory. Enjoy!
Check your crafting menu
UNINSTALLATION
Delete craftcomp.lua.