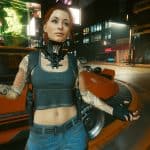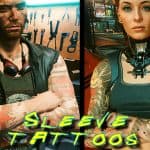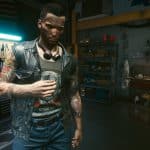 Japanese Tattoo Sleeves Shop
---
Adds traditional Japanese tattoo sleeves to both of V's arms. Various styles to choose from! Comme have a look (for both Male and Female V)
This mod adds tattoo sleeves to both of V's arms. There are various sleeve styles to choose from.
Installation:
There are two files, one for female V and one for male V. You can use both at the same time. Make sure the game's tattoo slider is at 0 or they will overlap onto the modded tats.
After you downloaded the version you want to use, it's as easy as slipping the .archive file in your mod folder. –>C:\Program Files (x86)\Steam\steamapps\common\Cyberpunk 2077\archive\pc\mod (if you don't have one, create one).
If you want to remove it, simply delete the .archive file.
Conflicts:
because this tattoo is added directly on V's skin texture, rather than replacing the base game's tattoo template, anything that retextures V's skin, such as but not limited to, the 4K body complexion and Arasaka Cyberarms will cause this mod to not work.
If you want to use tattoos that don't conflict with those, I have quarter sleeves and back pieces here (working on more).