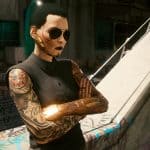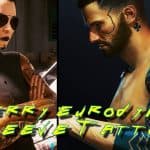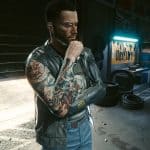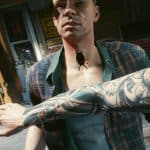 Kerry Eurodyne Sleeve Tattoos For V
---
This mod adds Kerry's sleeve tattos to both male and female V. I can't make it only on one arm because of the way V's skin arm texture is made in the game, there is only one arm and it mirrors everything onto the other. I get it, game devs probably did that to save time, but it means that you can't have it on only one arm
BUT, fear not, there is a workaround: add any Arasaka Cyberarms mod and it will hide the mirrored tattoo on that arm!
Installation:
Pick the tattoo you want, sleeve 1 or 2 for either male or female V, and extract the .archive file into your mod folder. C:\Program Files (x86)\Steam\steamapps\common\Cyberpunk 2077\archive\pc\mod (if you don't have one, create one).
You can only have 1 for male V and 1 for female V installed at the same time.
The tattoos will appear by default, no need to use any in-game tattoo options
To uninstall, remove the .archive files out of the mod folder.
Conflicts:
Wearing the Monowire will cut off parts of the tattoo on the inner forearm, every other cyberarm works fine.
If you have any complexion or retexture mod for V's skin, the tattoos will NOT show up. You will need to remove those mods if you want to use these tattoos.
Important Notes for male V:
Because the cyberarm mod for Male V doesn't cover the entire shoulder, if you intend to use one with this tattoo mod you'll have to use the .archive files in the 'cyberarm male sleeve…' folders. There is a folder for both sleeves (1 and 2) and which arm you want to use the cyberarm on (left and right).
So, if you want to use sleeve 1 and a cyberarm on the left side, you have to use the .archive file in 'cyberarm male sleeve 1 left'