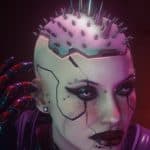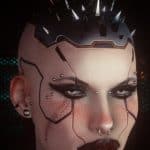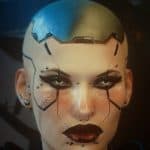 Metal Spikes -Hair- And Metal Cap for FemV
---
Metal Spikes as hair replacement comes in 3 variants shown in pictures, you can have them standalone or with the metal cap. Any other hair type + metal cap will make the metal cap clip with the shaved part, so its recommended to use the metal cap with the Metal spiked hair. If you're starting a new game you'll need to get to Vik's clinic for the 1st time to enable the metal cap part of the look.
The metal cap does *NOT* work with either Johnny + V tattoo and Tyger Claw's subdermal smart link tattoo, and since tyger claw tattoo and smart link have the same function it shouldn't be a problem.
I'd like to thank the cyberpunk modding community for helping me out getting started on modding for this game, you guys are great!
Also I'd like to thank Ladybella (UserDomainErrors) for the idea and you (yes you!) for the checking out this mod, if you like it make sure to post pictures!
Link for the cyberpunk modding discord: https://discord.com/invite/BTApCbE
How to install: Pick 1 of the hair variants plus the metal cap as weapon grip replacement and install in your mod folder (\Cyberpunk 2077\archive\pc\mod). The metal cap has a hair replacement variant if you wanna just have the cap and not do anything with the weapon grip.
Just FYI: When its mentioned that the metal cap replaces 'weapon grip' I mean that bit of the character's meshes, not its functionality(ballistic coprocessor and smart link)