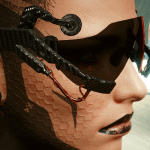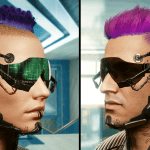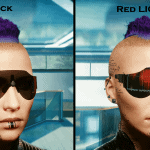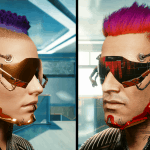 MODULAR NETRUNNER HEADSET for MALE and FEM V
---
MODULAR NETRUNNER HEADSET FOR MALE AND FEM
UPDATE: 1.1 NOW CYBERPUNK WON'T FLATLINE (LOL)
This Mod lets you combine a custom Braindance Set, Custom Specs and Custom Cybernetic Jaws in the Face Slot. You can decide between many different colors, and to equip everything or only parts of it.
In the OPTIONAL FILES there are the standalone versions if you want to use ONLY the Braindance Equipment, OR ONLY the Specs, OR ONLY the Jaws.
INSTRUCTIONS OF THE MODULAR SET
Ingame you only need to equip this item: Game.AddToInventory("Items.Glasses_03_basic_05",1)
Install: you need to have 4 archive installed simultaneusly
basegame_net_head_fem_BASE.archive (there's only one, it's the template)
basegame_net_head_fem_SLOT1_BDance.archive (choose ONLY ONE, if you want no Braindance Set, install -> SLOT1_BDance_0_EMPTY)
basegame_net_head_fem_SLOT2_Specs.archive (choose ONLY ONE, if you want no Specs, install -> SLOT2_Specs_0_EMPTY)
basegame_net_head_fem_SLOT3_Jaw.archive (choose ONLY ONE, if you want no Jaws, install -> SLOT3_Jaws_0_EMPTY)
If you have less than 4 .archives installed, part of the hazamat suit will load.
BASE and 1 x SLOT1, 1x SLOT2, 1x SLOT3 MUST BE INSTALLED
If you don't want a slot, install the corresponding 0_EMPTY.archive
Example:
basegame_net_head_fem_BASE.archive
basegame_net_head_fem_SLOT1_BDance_carbonfiber.archive
basegame_net_head_fem_SLOT2_Specs_greenLIGHTS.archive
basegame_net_head_fem_SLOT3_Jaws_0_EMPTY.archive
This will give you the Carbon Fiber BD set with Scrolling green lights Specs and no jaw.
The mod will conflict with everything that swaps both Tactical Specs 04 AND Hazamat Suit No Hood (special slot).
OPTIONAL FILES
If you want ONLY the Braindance Set, OR ONLY the Specs you will find them in the OPTIONAL FILES. Intall only one. The item they swap is inside the .zip (Braindance Set and Tactical Spec 01).
The Jaws Standalone can be found in my other mod: 8ug Jaws.
The Standalone versions can be used with other mods that let you combine Jewelry or other Face Gear.
SOME DEETS: See the pictures to decide what color/skin you prefear
BRAINDANCE SET
It's the NPC one, the one used by Judy, wich has the head plugs and is remodelled to not clip with player head. I have also remodeled the nonexixtent Male versions. It comes in different versions:
– Black
– Blue Glass
– Carbonfiber (custom made by me)
– Gold Pattern
– Orange Stripes
– Pink Pattern
– Zebra White
SPECS
They are Tactical Specs 01 with most of the frame cut to not clip with the Braindance Equipment, but they are good lookin also as standalone. Some of them have custom animations added.
– Black
– Dark Black (almost not trasparent)
– Orange
– Pink
– Teal
– Yellow
– Blue Mirror (not trasparent)
– Gold Mirror (not trasparent)
And the versions with scrolling animations
– Blue LIGHTS
– Green LIGHTS
– Purple LIGHTS
– Red LIGHTS
– White LIGHTS
JAWS
They are the same from my other mod 8ug Jaws, they come in two sizes: Regular is for regular/small Jaws (N°6 in CC), BIG is for big Jaws (N°10/11 in CC).
Each size comes in different versions:
- Black
– Carbon Fiber
– Chrome
– Gold
– Pink
– Red Metal (glossy)
– Red Plastic (matte)
– White
Refear to the pictures in the 8ug Jaws page to see them individually.
Installation:
Extract the .7z and put the .archive files inside these folders. If the "mod" folder doesn't exist, create it yourself!
Steam:
\SteamLibrary\steamapps\common\Cyberpunk 2077\archive\pc\mod
GOG:
\GOGLibrary\Games\Cyberpunk 2077\archive\pc\mod
Epic:
\EpicLibrary\Cyberpunk 2077\archive\pc\mod

Uninstall:
Remove the files from the "mod" folder. No changes will remain on your character.