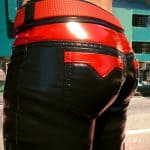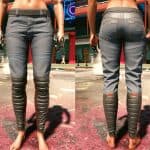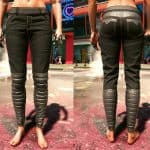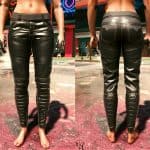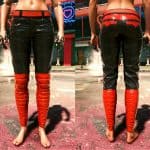 Panam's Pants for V – Clean and recolors
---
Replaces V's "Duolayer Harem Pants" with Panam's pants.
Comes in basic, cleaned up denim version and several recolored variations, only available for Female V.
REQUIREMENTS
Cyber Engine Tweaks to add it manually:
https://www.cyberpunk2077mod.com/cyber-engine-tweaks/
Base material override archive:
https://www.cyberpunk2077mod.com/cyberpunk-2077-texture-override/
FEATURES
Panam's Pants for V in these variations:
– Clean Denim (original colors)
– Black Denim
– Black Leather
– Red Leather
– Black PVC
– Black & Red PVC
– Purple & Black PVC
+ as a bonus gives V the same bubblebutt as Panam's – her secret was in her pants, sorry.
GENERAL
Place the archive into your "mod" folder or install with Vortex:
\Cyberpunk 2077\archive\pc\mod\
Use this console command to get it:
Game.AddToInventory("Items.Pants_15_basic_01", 1)
All files are standalone ones, install and use only one!
Mod is using custom .mlsetups so hopefully no conflicts will happen.
KNOWN ISSUES
Nothing found so far.