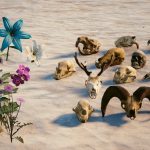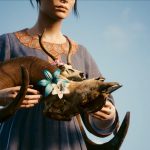 (PROPS) Flowers and Bones
---
Adds to the game some pretty flowers and some pretty… skulls. All for you, witches
Six flowers, around twelve animals (and not only) skulls — reference pic could be found in images!
Installation:
— works only with AMM
— .archive goes to Cyberpunk 2077\archive\pc\mod
— .lua goes to \AppearanceMenuMod\Collabs\Custom Props
— search in AMM decor tab for GGFL to get flowers and GGBN to get skulls!
— some flower models are seen only from certain angles, I don't feel like fixing it
— some skulls spawns quite big, it's up to you to scale also
To uninstall the mod simply delete the files.
Tested on 1.6
Credits: models are not mine, all I did was editing and porting; for the full credits open the credits tab!