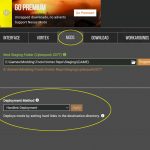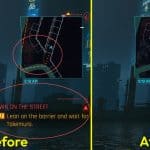 Quest Untracker (1.3 compatible – no manual workarounds)
---
Adds a way to Untrack the Current Quest, using a custom hotkey (keybind). This hides the Quest Tracker below the minimap, the icon in the world and the route on the minimap.
How to Use
Set up a hotkey, and use this key to untrack the quest when you want. If you want to track a quest again, select it in the Journal and track it like you always can.
When a quest updates, or a new quest gets added, it will be tracked by default (by the game). Just press they hotkey again to untrack it when needed.
How to Install
Install Cyber Engine Tweaks, and configure the GUI hotkey for that mod. (If you haven't done so already.)
Install this mod via Vortex. (Or manually, if you really want, just copy the ZIP contents to your Cyberpunk directory.)
NOTE: When installing via Vortex make sure to use Hard Link Deployment (under Settings, Mods, Deployment Method), or the mod won't work. See 3rd screenshot for details.
Open the Cyber Engine Tweaks GUI using the hotkey you configured, set up a new hotkey for this mod and don't forget to Save! See 2nd screenshot for details.