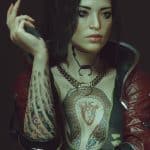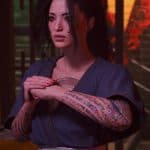 Tyger Claw style tattoo sleeves Fem V
---
Tyger Claw tattoo sleeves adapted from the game textures.
Replaces arm texture like this mod (https://www.cyberpunk2077mod.com/sleeve-tattoos-for-female-v-read-description/), not the CC tattoo, so it should show up automatically once installed.
Optional edited version of the snake tattoo to match textures.
To install place in patch folder: \Cyberpunk 2077\archive\pc\patch
*Disclaimers*
Sorry the seam looks like ass. Ideally I'd like the bodysuit version, but do not know how to do that with the way tattoos are masked. Hopefully someone with more time/know-how will make it happen. Also the texture is low res, but as someone with sleeves…they look like old faded shit tattoos. IMMERSION.
Does not work with arm mod replacers like the valentino cyber arms, but will work fine with regular unmodded arm upgrades like gorilla arms.
Female V only as I did it for personal use.
Character sliders in images, optional skin and makeup edits in files.
Claire Hair Mod: https://www.cyberpunk2077mod.com/claires-ponytail/