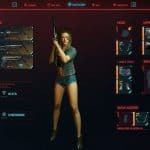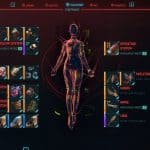 V – The Heartbreaker
---
Female V – Streetkid – 50/20 – Endgame – Rare Endings – Gigs/Missions done – All vehicles – Full wall.
Whole lot of details available.
At first I wanted to make this a more basic save game with just these romance options, but due to some oversight on my part and other issues I had to start with a new save, an did quite a few things differently knowing the alternative dialog routes..
Making this save somewhat of a unique one with the goal of future DLC's in mind … there could be more out there like this … but wouldn't know as a lot of details aren't mentioned in them.
Female V
Streetkid
Level 50 Level 20 all categories, +25 in each of them
op55n1 – Ready to go, this save has never done any ending yet.
All missions done.
All gigs done. (ignore the journal glitched one … its done, just wont disappear)
Plenty of materials to craft with.
All weapon recipes (AFAIK).
Allround legendary build.
Cars
Got all cars that you can normally buy / receive.
+
◌ Beast.
◌ Cthulu. (Sampson got shot regardless of telling claire to spare him, got a text from Regina to buy it for 76k)
◌ Johnny's car. (Grayson, alive after giving keys to car.)
◌ Mitch's car. (Send off Scorpion with a bang.)
◌ Delamain Junior. (Merged AI's at the core.)
Characters
◌ Johnny's tombstone – ("The guy who saved my life", unlocking the "secret Ending")
◌ Takemura – (Saved from collapsing building, unlocking "The Devil" ending.)
◌ Judy, ready to romance, mission is ready to start.
◌ River – ready to romance, mission is ready to start.
◌ Meredith Stout – waiting for you in a motel room …
◌ Panam and Kerry. Both at highest level of friendship possible, quest lines completed.
I know it is possible to romance these regardless of your gender with further save game edits, but I chose not to do this for the sake of future DLC compatibility.
◌ 8ug8ear – Not roasted.
◌ Oda – Spared.
◌ Placide – alive. (Texted me to watch my back ..yeah right … weakling)
◌ Mamam Brigitte – Roasted by Alt.
◌ Maiko – Alive. (Shot in knee)
◌ Royce – Dead. (Killed in the large open warehouse area while he was geared up.)
◌ Lizzy – Told truth to unlock her second mission, body dumped. Both completed.
◌ Sandra Dorset – Cracked database after its recovery, admitted it, complimented her, talked tech.
◌ Blue Moon – Stalker is in jail.
◌ Nix – Saved by hacking the old deck, 2nd mission book shard decrypted.
Specials
◌ Applied the Delamain phone bug fix. (save edit)
◌ Reprogrammed Swedenborg fuck thingy to spit out nonsense.
Gear
◌ Just some basic turned legendary clothes. (just the normal amount of mod slots, no extra, I found no need for it since stacking is broken as hell anyways)
All have 1x Bully and 1x Fortune
◌ FULL Wall stash – Including Skippy which I also turned in to Regina.
I found what looks like 2 different Skippy weapons and added them by console .. I don't know if they are actually fully functional or not. I just wanted a full wall.
◌ Placed Johnny's wardrobe in stash which normally you cant. (save edit, removed quest flags)
◌ Won shooting competition at shop, unique skinned Lexington reward is in stash ..why not?
◌ Netwatch driver mk5 legendary deck + filled with legendary quickhacks .. pretty much a netrunner capable build
◌ Qiant Sandevestian mk4 available as well
◌ Breakthrough sniper (crafted) – capable of several million damage head shots.
◌ Psalm Assault rifle (crafted) – easily roasts enemies
◌ Mox shotgun (crafted) – as Judy wanted to give a guy a face full of lead.
◌ Jackies pistol (crafted) + silencer – easily pop some heads quietly.
◌ Kukri (crafted) – I like the way Johnny paraphrased the English "off with their heads" line. This one makes quick work of it mostly, and quietly.
◌ Most essential all round legendary cyberware
◌ Poison resistance – clothes mod
◌ Bleeding resistance – clothing mod
◌ Burn resistance – cyberware
◌ Electric resistance – cyberware
◌ Most epic and legendary not looted … you can still find them were they are supposed to be for the most part, except those on enemies ..their loot might have despawned after their death by now ..dont know ..you can always add them by console anyways ..seeing as you use save games already its a small step xD