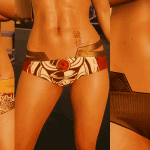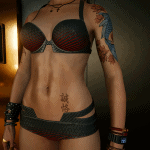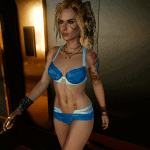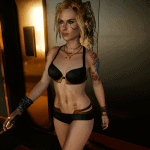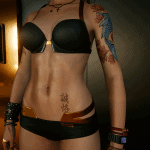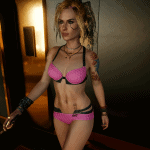 Valerie Underwear Color Variants
---
Valerie's Underwear with 30+ Color Variants.
Underwear and Bra in one archive you can find here : https://www.cyberpunk2077mod.com/underwears-colors-for-female-v/
Main Files:
Will replace "Frayed Jean Shorts" and " Torn Syn-Blend T-Shirt"
To get the items Use CET use the command:
Game.AddToInventory("Items.Shorts_04_old_02",1) to get the Underwear
Game.AddToInventory("Items.TShirt_05_old_04",1) to get the Bra
You can mix colors for Underwear and bra. Just be sure that you have only one archive for the underwear and only one archive for the Bra each time.
Optional Files:
Is a .7z file that has all the Variants. This version don't replace any item. You MUST have Nudity Censor ON in game Settings. Choose the color you want and place it on patch folder.
Install:
Extract the .7z and put the .archive files inside these folders. If the "patch" folder doesn't exist, create it yourself!
Steam:\SteamLibrary\steamapps\common\Cyberpunk 2077\archive\pc\patch
GOG:\GOGLibrary\Games\Cyberpunk 2077\archive\pc\patch
Epic:\EpicLibrary\Cyberpunk 2077\archive\pc\patch
Credits:
A huge Thanks to:
rfuzzo for providing the CP77 tools
alphaZomega for the scripts
Cyberpunk 2077 modding community