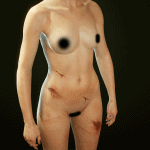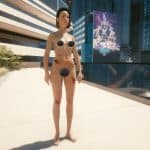 Beaten V
---
Beaten up body texture swap for female V.
Ever thought your V looked too good after getting into constant fights? Well look no further! With this simple texture swap, you can have your female V looking like you she actually took some damage!
Important info!
* Only for female V because male V has no beaten textures that already exist. Could possibly make them in the future but for now I just wanted to do a simple replacer.
* Tested with a few skin colors and shouldn't matter.
* Censored version included for those that use it. (Couldn't test this because my censor option isn't there for some weird reason.)
* These should work with the game's default tattoo options because the tattoos are just overlays of the body.
* These are NOT compatible with any other mods that change the textures of the body.
Examples of incompatible mods: Tattoo mods on the base body, HD body textures, etc.

Install
Unzip the main file, find the body / clothing you want, and drag the .archive file into your patch folder.
Steam:
\SteamLibrary\steamapps\common\Cyberpunk 2077\archive\pc\patch
GOG:
\GOGLibrary\Games\Cyberpunk 2077\archive\pc\patch
Epic:
\EpicLibrary\Cyberpunk 2077\archive\pc\patch
Uninstall
Just find the mod you want removed and delete it from the patch folder. Done!
Credit
* CDPR (Game files)
* Cyberpunk Modding Tools
* Cyberpunk2077 Modding discord