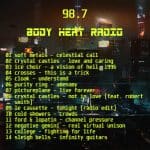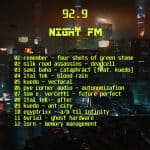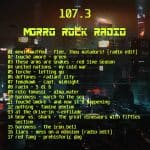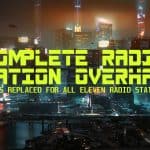 Complete Radio Station Overhaul – Replacers for All Eleven Stations
---
A NOTE BEFORE WE BEGIN
I don't mean to be uncharitable, but I will NOT be taking requests. I'm a very amateur modder, and this has been a mini passion project of mine. But I don't have the energy to fulfill everyone else's specific desires for certain songs to stay/go/etc. If you have ideas about what songs you'd love to hear while driving around Night City, see the 'Articles' tab of my mod page for instructions on how to replace the radio station music yourself. It's a lot of work, but if I can do it, so can you!
INSTRUCTIONS FOR USE
Unzip chosen number of replacer mods to your Cyberpunk 2077 folder.
DESCRIPTION
There is great enthusiasm on the Nexus for replacing the music featured on the radio stations in Cyberpunk 2077. If you're like me, you were rather disappointed by the soundtrack offerings that CDPR included in the vanilla game. The original score is pretty great, but the in-game radio stations are severely lacking the kind of strange, otherworldly, futuristic personality that I was expecting to encounter in Night City.
Unfortunately, the modding of CP2077's audio files remains in its infancy. It's a slow process to sort out how to shape the user experience to one's liking. For those who are not aware, if a modder does not replace the vanilla songs with modded songs of exactly (or near exactly) the same length, modded songs that are longer than the songs they replace will be cut off early in-game, while modded songs that are shorter than the songs they replace will have that remaining space filled with silence until the next song begins to play.
Given those limitations, I have painstakingly crafted a playlist for each radio station that properly matches the necessary track lengths for each song that I have replaced. In this way, the user will receive the most seamless listening experience currently possible in a modded capacity. I relied heavily on the following Cyberpunk 2077 Song List to create a reference for my replacements. It is the most thorough list of the radio station songs that I'm presently aware of, but it is not yet complete. There will likely still be the occasional vanilla track that I've missed as a result. But the vast majority of the songs on all eleven radio stations in the game have been replaced with a curated selection of songs from my personal music library, with no glaring cut-offs or extended silences beyond a few extra seconds.
That said, I had to make certain accommodations to achieve all of the above. The track length limitations forced me to be rather creative in my selection process. I chose many songs that probably would not have been on my radar for such a project, and I had to leave out a great many songs that I would have preferred to include (the majority of the vanilla track lengths are on the shorter side, which really bummed out the mixtaper in me when it came time to matching those track lengths). I also made the determination to edit songs that weren't quite fitting properly. I made minor adjustments to several songs, fading out a bit early so there would be no abrupt cut-off. But if you see the phrase "radio edit" next to any song in the tracklists for my modded versions of the radio stations, this means that I made extensive edits to squeeze a favored song into a slot it simply could not fit in otherwise.
By and large, I was able to maintain tonal consistency on each radio station (with the exception of 106.9 30 Principales, which I treated like a little grab bag of random songs from disparate genres). The stations certainly aren't perfect. I'm a rather meticulous playlister, and being forced to match vanilla track lengths restricts modder freedom quite a bit. Perhaps those who are smarter and more experienced than myself will eventually discover how to decouple modded songs from their run times. But considering the current limitations, I am quite pleased with the result.
As in all things, there is no accounting for taste. You may enjoy some of the changes I have made. You may not. Fortunately, you can install each radio station independent of the others, and each .archive is labeled accordingly for easy installation and removal. You're also free to use all of them if you'd like. I'm currently doing so in my game, and each replacer works as it should, though I have not yet thoroughly tested all of the stations in their entirety. If you notice any cut-offs or other notable errors, please bring them to my attention. I will do my best to make the necessary adjustments.
FINAL NOTES
Consult the 'Images' tab for each radio station's new/improved tracklist. The 'Articles' tab also includes descriptions of the kind of music each radio station features, as well as YouTube links so you can determine in advance if my radio station overhauls are for you.
It should be noted that these tracklists do not necessarily reflect the order in which the songs are played in-game. I ordered them according to the songs they replaced as listed on the Cyberpunk 2077 Song List. This was a big project, and I'm a very amateur modder. I spent quite a lot of time teaching myself how to accomplish the above, so you'll have to forgive my lack of desire to sort through the proper track orders by listening to each station in full. 😉
Lastly, you can also refer to the 'Articles' tab for instructions on how to complete the process of replacing the radio station music if you'd like to try your hand at doing it yourself with your own favored songs.