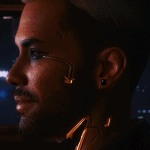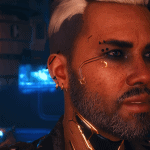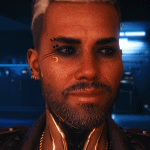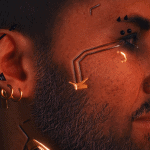 Emo Kerry (aka Kerry with piercings)
---
I made a similar mod for Johnny a while back, and was playing around with this today and it came together pretty quick so I figured I'd share. This gives Kerry some new earrings alongside his default gold hoops, and two eyebrow piercings. He has the same industrial earring on his right ear as the one I gave to Johnny… matching bestie piercings? Lol
For the moment, there's only one version. The piercings come in black, all in one. I may come back to this and attempt other colours in the future. It also only affects older Kerry, i.e. 2077 Kerry, not flashback Kerry (also a potential addition later down the line).
This mod is incompatible with any mod that affects Kerry's head mesh, though I doubt many do that lmao. Retextures still work!
Installation:
1) Drop the mod into your mod folder (should look something like this: "Cyberpunk 2077\archive\pc\mod")
2) Profit.

Uninstallation:
1) Delete the file from your mod folder.