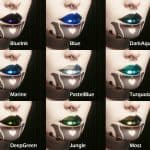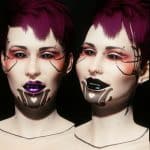 Metallic Lipstick colors
---
Replaces the gold color lipstick option. Use only one file at a time. It won't work on lipstick option 5 and 7. Should work with modded lipstick shapes as long as they don't replace those options mentioned.
Installation
1. Pick the archive option you want and place it in *:\Cyberpunk 2077\archive\pc\mod
2. Create the folder if you don't have one.
To uninstall, simply erase the mod from the folder or move it somewhere else for safekeeping.