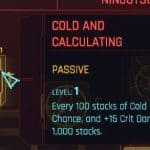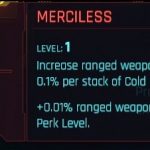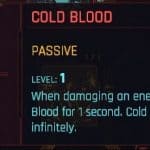 Cold Blood and Annihilation Perk Reworks
---
Cold Blood tree has been completely reworked, live your Terminator fantasy.

Requirements:
Cyber Engine Tweaks
RED4ext
redscript
TweakXL
Completely overhauls the Cold Blood perks. Cold Blood can stack infinitely now.
Made this mod to give you an actual "Terminator" like gameplay style approach.
Cold Blood turns you into a unstoppable behemoth once you unlock most of the perks.
Not required but highly recommend you install: Level Scaling and Balance by rmk1234
Install "Level Scaling Plus 3 (High threat level)" optional file.
Installation:
YOU SHOULD RE-SPEC YOUR CHARACTER BEFORE INSTALLATION.
1) Install all NECESSARY mods.
2) Unzip everything to your Cyberpunk 2077 root folder. Steam\steamapps\common\Cyberpunk 2077
Notable changes:
Cold Blood stacks infinitely now, and grants a stack of Cold Blood upon DEALING damage and lasts for 1 second.
All perks in the Cold Blood tree have been adjusted for this change, once you gain hundreds of stacks of Cold Blood all the perks out perform the vanilla version.
+ Will to Survive: Now includes melee resistance.
Annihilation Changes:
+ Bloodrush: Gain increased Crit Chance based on missing health. +5/10 Crit Chance per 10% health missing.
+ Blood Gain: (Replaces Heavy Lead) Heal for 5% of all Crit Damage you deal.
+ Bloodbath: Convert current movement speed to Crit Damage by 1000%. +0.01% movement speed per Perk Level.
Translators: only file you have to edit to add a translation is: r6/tweaks/perk_translations.yaml